IWHR delegation attended the 40th IAHR World Congress, which was held in Vienna, Austria from August 21 to 25, to present China's insights and experiences in water security.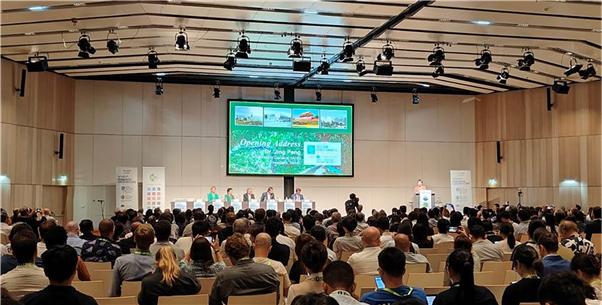 Under the theme "Rivers: connecting mountains and coasts," the Congress focused on the importance of an integrated and intelligent approach to the management of the entire water cycle, offering a platform for nations to share cutting-edge ideas and practices in river governance to address today's global water challenges.
China has been committing to problem-oriented, goal-oriented methods in tackling such water challenges, according to IWHR President Dr. Peng Jing in her opening speech for the Congress. She introduced China's Guideline for Water Governance, namely to prioritize water conservation, reach special equilibrium, implement systematic governance and achieve government-market synergy, as the country enters the new development stage and strives for high-quality socioeconomic development.
As the hosting institute of the IAHR Beijing secretariat office, IWHR was fully engaged in the preparation of the Congress from the very beginning. Dr. Peng Jing stated IWHR's willingness to work together with IAHR and the world to spark science and technology breakthroughs, speed up knowledge dissemination and boost exchanges, in a bid to boost the sustainable development of water and environment.
IAHR President Dr. Joseph H.W. Lee expressed his gratefulness for the long-time support to both IAHR and himself from IWHR and other Chinese members. He said IAHR would keep serving as a hub for connecting the world to cope with global water challenges.
Covering eight key topics, the Congress consists of seven keynote reports, four high-level panels, four industry events, 148 plenary sessions, 34 special sessions and two masterclasses and workshops. Technical visits and social events were also organized for experts, young professionals and students.
IWHR experts delivered reports on flash flood forecast technologies, eco-hydraulics, hydraulics for river networks and pipelines, river sediment, integrated water resources management, etc., sharing China's latest research achievements in these areas.