IWHR hosted the Seminar on Natural-Social Dualistic Water Cycle and Water Security, convening Academicians and representatives from the Ministry, local water bureaus, watershed management agencies, universities and research institutes to provide insights into strengthening China's water security.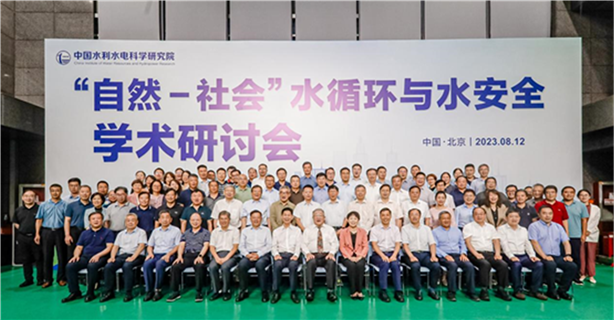 The innocative Natural-Social Dualistic Water Cycle Theory was proposed in 1999 by Academician Wang Hao, who has been serving IWHR for more than 30 years. A comprehensive theoretical and technical framework of the natural-social dualistic water cycle in river basins, formed after over 20 years of continuous development, has not only played a crucial role in supporting China's water resources security but also led theoretical and methodological research on hydrology and water resources in the international community.
As China enters a new development stage, water security challenges interwoven with old and new water issues become increasingly complex and severe. A thorough discussion of the formation and development of the Natural-Social Dualistic Water Cycle Theory is of great academic value to the promotion of the innovative development of the theory, while boosting the nurturing of talents for national water security.
During the Seminar, Academician Wang Hao delivered a keynote report on Natural-Social Dualistic Water Cycle and Water Security, systematically elucidating the formation and development of the Natural-Social Dualistic Water Cycle Theory. He shared the innovative work supported by the theory in the assessment, conservation, protection, allocation and regulation of water resources, flood and drought response, and the planning and design of China's national water grid. He also shared his thoughts on the future development of the theory.
Other Academicians and experts also added insights to the Seminar through their reports.
Academician Zhang Jianyun's "Discussion on China's Peaking of Water Demand" pointed out that China has not yet reached the socio-economic conditions for peak water demand, and further research is required to identify the exact peak value and timing.
Academician Ni Jinren's "New Mechanism of Self-Purification Along the Route of the Central Route of the South-to-North Water Diversion Project" proposed a new self-purification mechanism, offering theoretical support for ensuring water quality safety.
Guo Mengzhuo, former Deputy Chief of the Department of Water Resources Management of China's Ministry of Water Resources, presented "Rigid Constraints on Water Resources as the Balancer for Coordinated Natural-Social Development." He highlighted the need for continuous innovation in both theoretical techniques and practical applications in rigid constraints on water resources.
Zhao Jianshi, Deputy Dean of Tsinghua University's School of Civil Engineering, discussed the Preliminary Research on the Dualistic Water Cycle Basic Equation. He introduced research findings based on the principles of marginal benefit and maximum entropy production.
Following the keynote speeches, participants delved deeply into discussions on the natural-social water cycle and water security, focusing on theoretical and technical innovations, practical application and talent development.