Beijing IWHR Corporation (BIC) was a wholly-owned subsidiary of IWHR with a registered capital of two million RMB in 1992. The capital was increased to 60 million RMB in 2014. After years of development, the company now has six departments, one branch company and three holding companies. The business of the company mainly includes technical product development, projects contracting and sales.
Main Business
· Engineering Design Research
· Safety Monitoring
· Testing and Evaluation & Anti-seepage
· Consolidation of Special Foundation
· Engineering Safety Information

Results in Jinghong
Results in Zangmu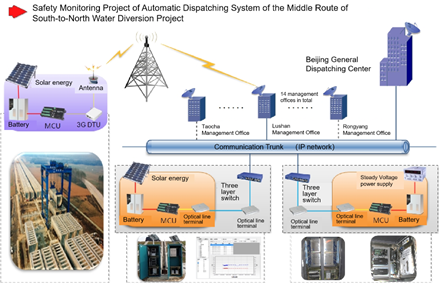 Safety Monitoring Project of Automatic Dispatching System of the Middle Route of South-to-North Water Division Project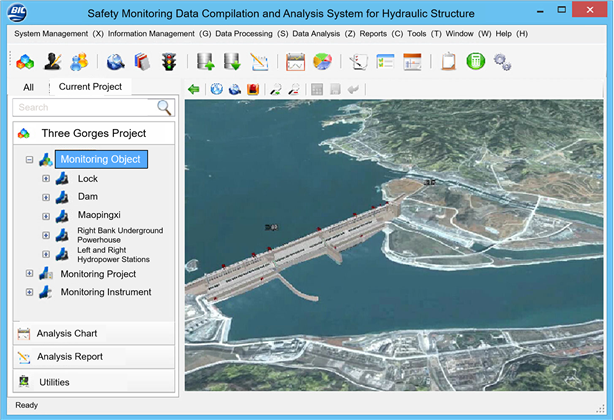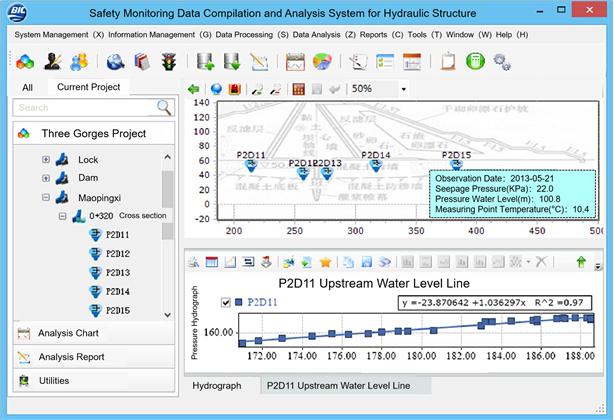 Safety Monitoring Data Compilation and Analysis System for Hydraulic Structure
Three dimensional diagram of Baihetan Monitoring
Main Products
Hydraulic Elevator Dam
This type of dam provides a solution to a series of technical problems such as safe discharge, operation in winter, operation simplicity, flotage, sedimentation, pier for dam, project cost, ground settlement and harmony with Landscape. All these problems are frequently encountered in projects such as steel gates, flap gates, pneumatic gates and rubber dams. It is widely used in water resources and hydropower projects for irrigation, reservoir capacity expansion and tide blocking.
Hydraulic Elevator Dam technology has obtained more than 20 patents for invention, and is recognized by China State Intellectual Property Office as a Model for Application and Demonstration.
This technology has been widely used in China and other countries in Southeast Asia, including Myanmar, Thailand and Bangladesh. Dozens of projects have been completed. The highest one is 5m, which is located Guizhou Province and used for increasing the water head for hydropower generation.
The longest one is 261 m, which is located in Myanmar and used for irrigation. In Jilin Province in North China, there are six sets of HED along the Mudan River, which are serving as a cascade project to improve the landscape of the city.
Containerized Water Treatment Plant
Consultation, Engineering and Construction For:
· Municipal Sewage Treatment
· Water Supply Projects
· Water Treatment for Safe Drinking