The Department of Water Resources (DWR), successor of the former Department of Hydrology established in 1956, gained its present name in 1981. Oriented by the needs of water resources management at the national, river basin and provincial levels, the DWR is expert at the study of key issues concerned with water deployment, water governance, hydro-ecosystem, bearing capacity of water environment, and flood control.
The DWR takes care of the routine work of 5 national and international organizations, e.g., Chinese National Commissions to IWRA and Global Water Partnership China (GWP China), and the editing and publishing of the China Water Resources Bulletin and the Forum of Water Issues.
The Department consists of 6 sections and 1 office, with a staff of 51, among whom are 2 academicians, 14 professor-level senior engineers, 18 senior engineers, and 11 engineers. Of the employees, 29 have a doctoral degree and 14 have a Master's degree.
Section of Simulating and Controlling of River Basin Hydrologic Cycle
· Mode and theory of basin dualistic water cycle
· Collection and processing of information on elements of river basin water cycle based on modern space information technologies
· Research and development of distributive river basin water cycle models and new methods for dynamic evaluation of water resources
· Scientific control standards and modes of river basin water cycle
· Theory and practice of water-saving society building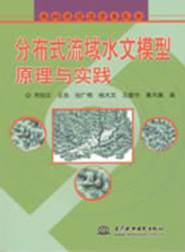 Principles and practice of distributed hydrological models for river basins
Section of Water Saving and High Efficiency Water Resources Utilization
· Mechanism and law of regional water resources cycling and transformation
· Water resources assessment and planning for sustainable utilization
· Theoretical method and application of water resources rational deployment
· Theory, method, dispatching and control of high efficiency utilization of regional water resources
· Numerical simulation and analysis of water environment
· Real time dispatching of river basin water resources
· Planning and engineering consultancy of water resources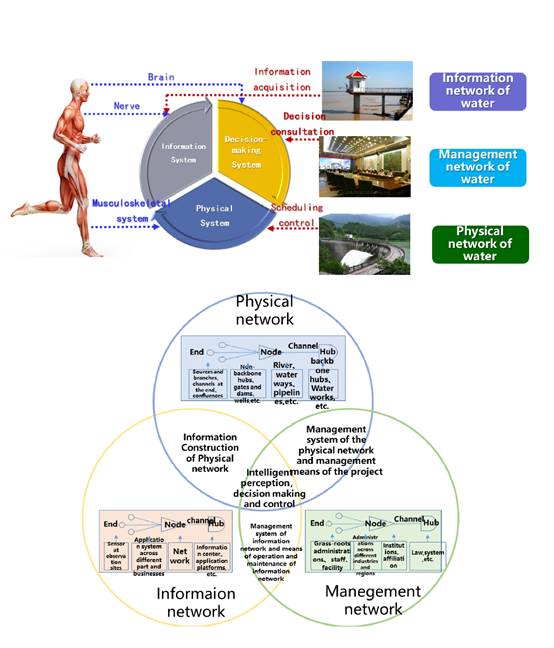 The framework of China's Smart Water Construction
Section of Water Resources Management
· Strategies for water resources development, water rights system, and laws and regulations for water resources management
· Systems of water resources and water resources project management
· Water demand management, and institutional guarantee for water management
· Water price and quantitative relationship between water resources and regional economic development
· Mechanism for responsibility sharing in river basin ecological construction and protection
· Economic instruments for water resources, protection and ecological and environmental construction
· Standards and indicator system for water resources statistics
· Drought emergency system, criteria of water shortage, and preventive tactics against water crisis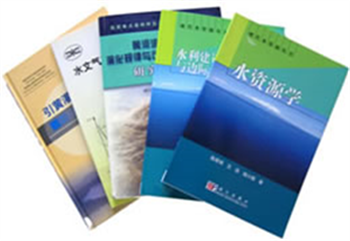 Water Resources Publications
Section of Water Resources Dispatching and Information
· Theories and technologies of water resources dispatching
· Technologies of digital river basin
· Planning and design of water resources informatization
· Online monitoring and management technologies of water resources
· Management information and decision making support systems for water resources management
· Water resources assessment technologies
Section of Water Eco-environment
· Theories and practice of ecology oriented water resources management
· Techniques and methods for the assessment of water resources quality
· Mechanism of hydrologic cycle in eco-system
· Water resources protection technologies
· Technologies for soil erosion control and rehabilitation of land vegetation cover
· GIS-based water quality model and decision making support system for water quality management
· Planning, management and policies of water resources protection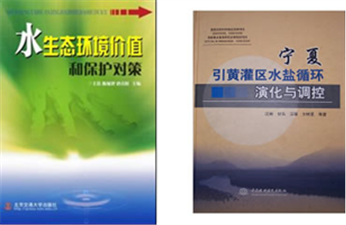 The value of water ecological environment and its conservation (Left)
Evolution and regulation of salt water-salt circulation in Ningxia Yellow River Irrigation Areas (Right)
Section of Rational Water Resources Deployment
· Macro-economic model and water resources demand analysis
· Water resources assessment and sustainable utilization planning
· Theories and model systems of water resources deployment
· Bearing capacity of water resources and initial distribution of water rights
· Real-time monitoring and management systems of water resources
· Numerical simulation and multi-purpose management model technologies of groundwater resources systems
· Optimized dispatching and compensative regulation of hydropower station and reservoir group
· Initial allocation and total volume control of river basin water rights
Water Resources Deployment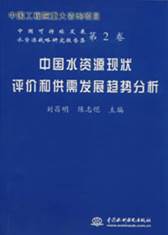 Status quo of China's water resources: Evaluation and trend analysis of its supply and demand